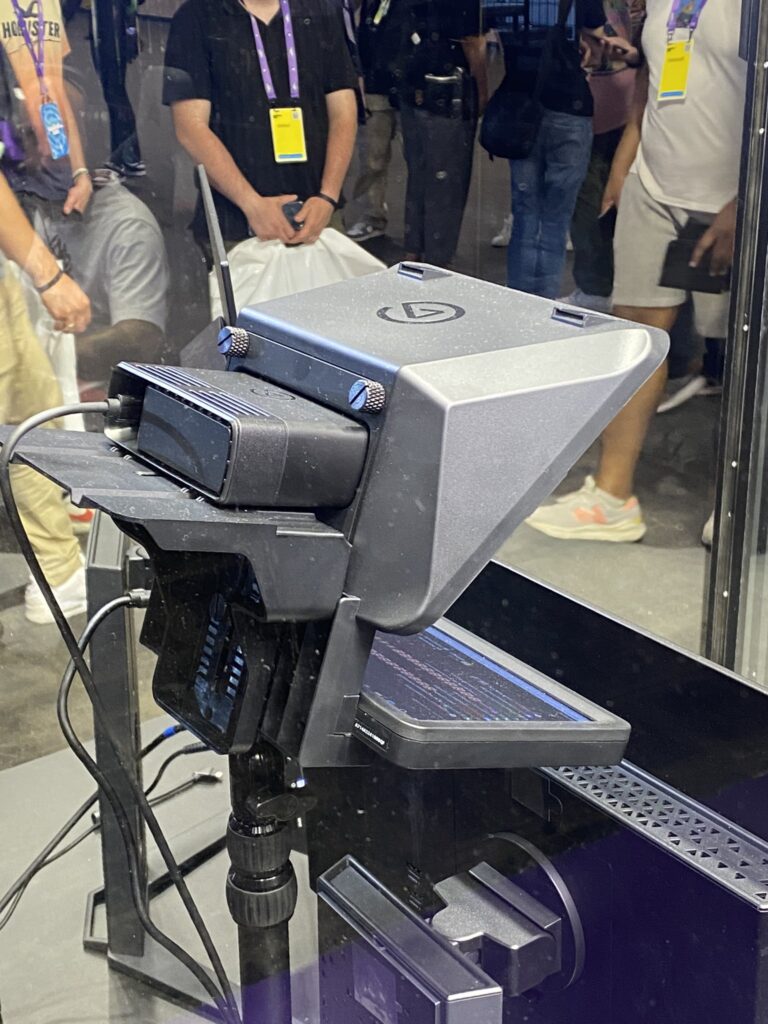 All signs point towards Elgato releasing their own streamer-focused teleprompter soon! A TwitchCon Paris visitor on Twitter posted a photo of a demo Elgato seems to have been hosting at the Twitch event demoing a wide-angle-looking teleprompter.
The shell itself very much resembles the DesView T3 knockoff teleprompter (a product which violates Padcaster's patents, according to my conversations with Padcaster), but everything else looks much more exciting. We see an Elgato Facecam Pro webcam mounted on the height-adjustable mounting plate, with what seems to be a swappable mount option, custom-sized for Elgato's webcam. I can only assume they'll also offer a similar mount for their original Facecam webcam, as well as some sort of circular cutout for traditional camera lenses.

It would appear that this teleprompter has a monitor built-in. Most likely a 5″ monitor. It's been suggested to me by those at TwitchCon that this is a USB C monitor, built into the teleprompter and Elgato was gathering feedback from creators about the viability of such a design.
Personally, this is huge. Having rigged together countless different teleprompter configurations for webcam and streaming purposes, fitting a small field monitor in the clamp section of a normal teleprompter (typically meant to hold a phone) is obnoxious, and not all of them support the mirroring required to reflect up at the teleprompter and be legible to the user. This will certainly increase the cost to the user – and I do worry about compatibility if the monitor is only USB-C connected – but ultimately a user will need to buy such a monitor anyway (a phone isn't going to work for anything but a script) so this could be yet another example of Elgato taking existing products in a space and perfecting them into a solution for content creators and streamers.
Teleprompters are cool. But they could be better.

— Julian (@JFest) July 9, 2023
And while Elgato doesn't have a formal announcement of a Teleprompter product, GM Julian Fest clearly isn't afraid to acknowledge its existence.
I remain cautiously optimistic (as always)! Price will be a concern, and plenty of people will continue to chime in about how they can "make this for so much cheaper" with existing parts, but Elgato provides solutions that removes the friction (or jank) to DIY-ing your own solution, and they rarely miss in this regard. I look forward to hopefully getting my hands on this for review. If it supports everything I'm hoping for, I could use at least 2 in my setups.
Additional photos:
Maté moi cette beauté !!Un "prompteur" Elgato qui est un écran a part entière et dans lequel la Facecam pro s'intègre le pied pour lire le chat tout en regardant la cam ! Le seul problème c'est que j'ai aucune idée de quand je pourrai mettre la main dessus 😭#elgatopartner pic.twitter.com/1S5ZCeJRsz

— Hiuuugs (@Hiuuugs) July 9, 2023
Why do streamers even need a teleprompter?
It may not be obvious to everyone why a teleprompter would be useful for streamers.
I've documented my journey with teleprompters for this kind of use case over the years. While I often use a teleprompter on-camera for my normal video shooting for the obvious use of scripting/outlining videos, I also use them at my desk for more easily monitoring chat while looking at the camera, seeing video conferencing guests, and so on. This is done by connecting a monitor mounted in the teleprompter to my PC, mirroring the image in the monitor, and then using that desktop output to display a chat window, Zoom call, etc. I used to do this all the time, though I do not currently have these set up.
Maintaining some form of eye contact with the camera lens can be important to keeping a welcoming presence in your streams and really engaging your viewers or the person you're having a video call with. Or, you could just keep notes, reminders, or your stream alerts/activity feed up and visible so you just glance at the lens and see who's just subscribed, tipped, and so on.
My current favorite teleprompter for video use is the Padcaster Parrot Pro, but even it doesn't support quite wide enough of an angle to be super comfortable on webcam use – hopefully Elgato has managed to crack the wide-angle code with this prompter, and hopefully the whole rig can maintain a mirrorless camera, lens, and the prompter itself on the Multi-Mount stand without toppling over (an issue I had with some of my bigger prompter rigs before).
Regardless, things have come a long way from the janky prompter I started with.
EDIT: More evidence?
Great write up!

— Julian (@JFest) July 9, 2023