We FINALLY have another gaming capture card that can passthrough 1440p 144hz and capture 1440p60 – and even capture 1080p in 120 frames per second – over USB! This is the first non-Magewell USB option we've had release since the Live Gamer Ultra dropped in 2017 – and it's from a company you really wouldn't expect.
PRODUCT LINKS:
Build & Ports
Physically, this capture card is slim and feels built really well. There's a bit of that "Gamer" aesthetic that ASUS's TUF line of devices tends to use, but it's not egregious. It's metal, small, and ports are where they should be: Video and data in the back, audio in the front.
The CU4K30 feature HDMI 2.0 input and real-time passthrough as well as a USB Type-C port on the back. On the front you get a 4-pole 3.5mm headset connection and a passthrough port to connect to your controller. If you're playing on console, you can pass your controller audio through to capture voice chat and still capture your headset microphone.
You can still use the headset jack to hear the sound coming through the capture card and capture your headset mic alongside your game sound, however (even when you're using HDMI audio) which is really handy.
Four small rubber feet corner the bottom of the device to keep it from slipping.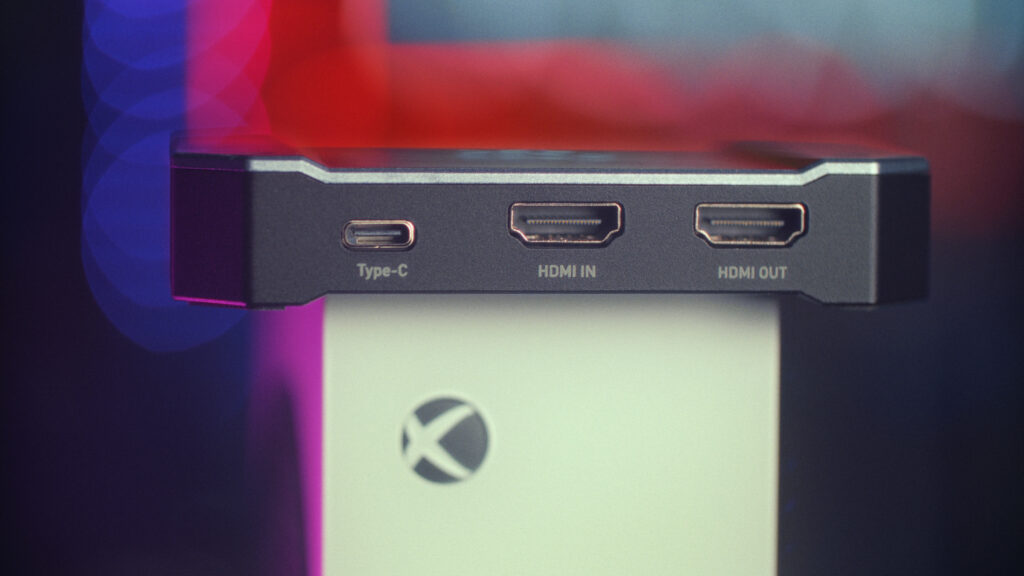 Specs
As mentioned, this card passes through HDMI 2.0.
4K 60hz passthrough, 1440p 144hz passthrough, 1080p 240hz passthrough
4K 30FPS capture, 1080p up to 120FPS capture, 1440p up to 60FPS capture
HDR passthrough, HDR-SDR tonemapping on capture
USB 3.2 Gen 1 (5gbps)
NV12 @ 4K30 and lower, YUY2 at 1080p60 and lower
Also, to get a smooth 120fps from this card at 1080p, you will probably need the firmware update available on ASUS's website.
The 120fps mode is super key here, on top of the 1440p support. There is basically only 1 affordable capture card that can do 1440p144 passthrough and 1440p60 capture, and 120fps 1080p capture over USB: The AVerMedia Live Gamer Ultra, which came out 4 years ago now. It's great to finally see more options in this space – and the audio connections give the CU4k30 an advantage over the Live Gamer Ultra anyway.
Latency
Measuring the latency of video input to this capture card being drawn to OBS Studio's preview, we're looking at about 64ms of input latency. For a USB card, this is great and means you won't have much issue syncing up your audio – but as usual, I really wouldn't recommend trying to play from the OBS preview. Use passthrough.
| Capture Card | Preview Latency (OBS) |
| --- | --- |
| Black 4K USB 3.0 HDMI Video Capture Card (Lattice) | 128 |
| EasyCrap "USB 3" Dongle #1 | 126 |
| Genki Shadowcast | 115 |
| Narvitech U2 HD60 Pro | 100 |
| Bird Dog NDI Flex 4K IN | 85 |
| AVerMedia Live Gamer Mini (GC311) | 82 |
| KAPCHR (TC-UB570) | 82 |
| ATEN CamLive+ | 80 |
| EVGA XR1 Lite | 78 |
| AGPTek VG0061 EZCap U3 | 77 |
| Black USB 3 4K HDMI Capture LT | 76 |
| ClonerAlliance Flint 4KP Plus | 75 |
| Silver "USB 3.0 HD Capture" w/ Power LT | 75 |
| Magewell USB Capture HDMI 4K Plus | 73 |
| ClonerAlliance Flint 4KP | 71 |
| Elgato 4K60 Pro | 71 |
| Riiai YK752 | 69 |
| EVGA XR1 | 68 |
| Razer Ripsaw HD | 67 |
| Razer Ripsaw | 65 |
| Mokose U70S | 64 |
| ASUS TUF CU4K30 | 64 |
| AVerMedia Live Gamer Extreme 2 (GC551) | 63 |
| Elgato Cam Link 4K | 63 |
| AVerMedia ExtremeCap UVC | 61 |
| Magewell XI100DUSB-HDMI | 61 |
| Elgato HD60 S+ | 61 |
| Bird Dog Studio NDI | 60 |
| Elgato 4K60 Pro MkII | 58 |
| BlackMagic Decklink Mini Recorder 4k | 57 |
| Elgato HD60 S | 57 |
| AVerMedia Live Gamer Ultra (GC553) | 55 |
| Elgato HD60 Pro | 51 |
| Elgato Cam Link (Gen 1) | 51 |
| EZCap GameLite RAW (ezcap321) | 50 |
| Digitnow U601 | 50 |
| Pengo 4K HDMI Grabber | 49 |
| Magewell 4K Pro Capture HDMI Plus LT | 48 |
| BlueAVS/GOODAN/Generic HDMI to USB 2.0 | 48 |
| AVerMedia Live Gamer Duo (1) | 43 |
| AVerMedia Live Gamer Duo (2) | 42 |
| AVerMedia Live Streamer CAP 4K | 40 |
| AVerMedia Live Gamer 4k (GC573) | 36 |
UVC
This capture card runs with a UVC driver. This means it's plug and play. It even works in Linux! It should theoretically work on Mac as well, but I could not get my M1 Mac Mini to power the device on at all for some reason.
This also means it shows up as a "webcam" to Windows, allowing it to work in video calling apps like Discord and Zoom, and even be easily captured in the Windows 10 Camera app! This also means it would be a useful capture card for pairing with a high-quality camera over HDMI, as well – especially with the 4K30 capture capabilities.
And yes, for those curious, you can use two of these on one PC.
Audio
Headset and controller connectivity give this capture card a usability boost over many capture cards on the market. In the box you get a decently-long 4-pole 3.5mm cable to connect to your controller to capture your game sound and/or party chat sound, and then you can connect your headset to the headset jack. If you don't have a 4-pole end for your headset, adapters are super cheap.
This allows you to capture sound from HDMI and 3.5mm at the same time, plus you can capture your headset mic alongside everything else – great for console streamers.
While the inputs don't show up as different audio devices to Windows, like the Razer Ripsaw HD, ASUS does provide an Audio Controller app which allows you to control the audio levels and balance between HDMI or controller and your headset mic, as well as adjust headphone volume. Then it just shows up as one audio device in your streaming program.
While there's an OBS Certified sticker on the box like the EVGA XR1, you currently still need to manually specify the audio device and choose the capture card's audio device for audio to show up. Not a huge deal, just needed to note that.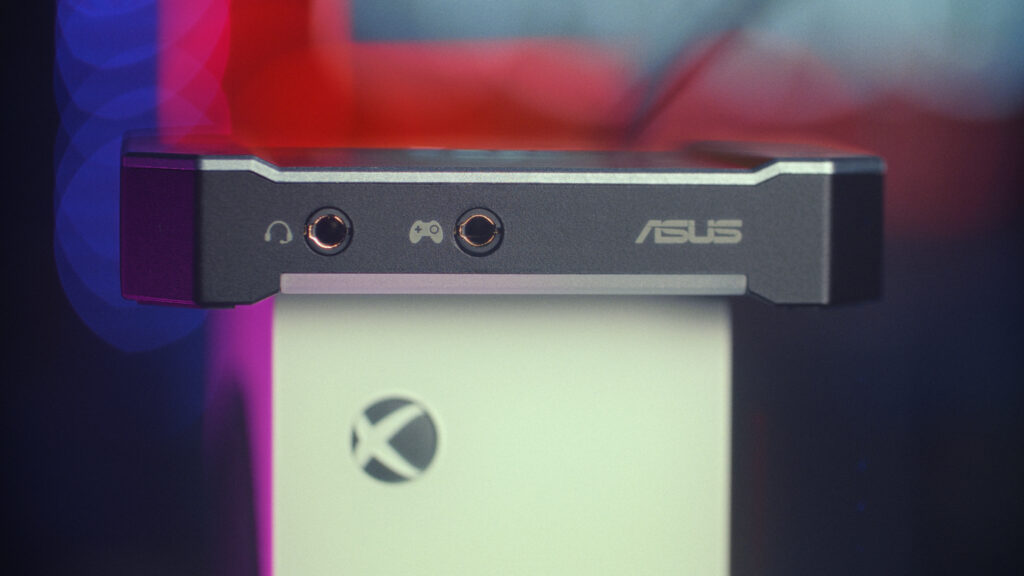 Retro
The CU4K30 seems like a decent, but not perfect solution for retro captures – though a crucial part of my testing is missing at the moment.
480p from the RetroTINK 2X works great – even in YUY2 – as does 1080p and 1200p modes from the RetroTINK 5X. However, 1440p 6x from the RetroTINk 5X does not work, unfortunately.
I cannot currently test the OSSC modes like I usually do as mine appears to have just… died?
Pricing & Conclusion
For $210 new, the ASUS TUF CU4K30 is a pretty compelling offer. It's effectively one of two USB capture cards on the market within a "game streaming budget" – meaning under the $400+ price point of the Magewell option – that can do 1440p144 passthrough and 1440p60 capture, and 1080p120 capture. While it can't capture HDR video like AVerMedia's Live Gamer Ultra, it still tonemaps it, which is fine for the majority of would-be users, and the audio capabilities are a huge benefit over the Live Gamer Ultra, too. I'm disappointed that 1440p YUY2 isn't working properly, but in reality it's not a huge loss here. And the Live Gamer Ultra can only do YUY2 at 1440p at 50FPS as well! They just specify that.
The EVGA XR1 can be had for half the price of the CU4K30, and it does 1440p passthrough if you disable the capture card for the "Advanced Passthrough" mode, but for normal capture and play you don't have any of those PC formats – high framerates, 1440p support so this is definitely a better value if you plan on doing dual PC streaming, as well.
The card remained stable (after firmware updates), didn't get too hot, and is super easy to use, with the only program needed being the audio controller app IF you're using the analog inputs at all, and that doesn't even require installing.
PRODUCT LINKS: