I reached out to Genki last year to review their Kickstarter and IndieGogo project: Genki ShadowCast. This was a USB capture card aiming to bring low latency gaming to gamers who want to play their console games on their computers, while also serving as a capture card for recording and streaming. The person who responded expressed concern over being called out for cloning the "Can'tLink" (explanation video here) and I never heard from them again. Thankfully, a PR firm reached out and sent me a review sample!
PRODUCT LINKS:
Genki ShadowCast Review
Unfortunately, Genki did exactly that: Clone a capture card you can buy for $6 and sell it for $40. Here's a link (Amazon affiliate) to one for $6 with the exact same capabilities.
Genki ships the ShadowCast with a USB Type-C cable with a right-angled end, an optional USB C to A adapter, and a couple of stickers. The shell is redesigned to be sleek and fit within the dock of the Nintendo Switch. Despite the fact that the Switch has a built-in screen. 
The goal here is to use your Macbook or computer as a screen for your console, instead of directly hooking it up to a monitor or TV. Neat concept, but by reusing subpar, knockoff components, they have produced a product mostly unfit for that task.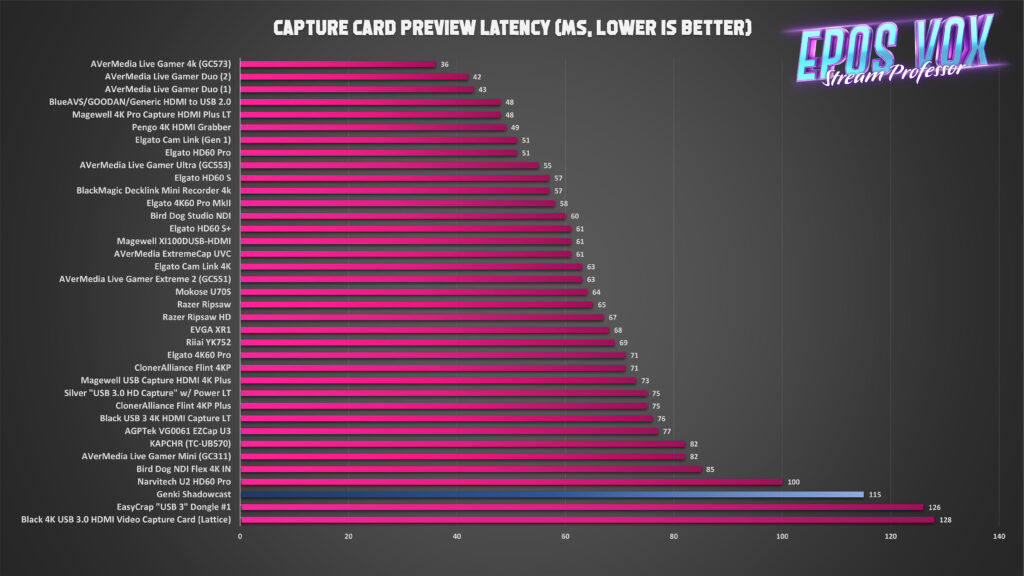 | Capture Card | Preview Latency (OBS) |
| --- | --- |
| Black 4K USB 3.0 HDMI Video Capture Card (Lattice) | 128 |
| EasyCrap "USB 3" Dongle #1 | 126 |
| Genki Shadowcast | 115 |
| Narvitech U2 HD60 Pro | 100 |
| Bird Dog NDI Flex 4K IN | 85 |
| AVerMedia Live Gamer Mini (GC311) | 82 |
| KAPCHR (TC-UB570) | 82 |
| ATEN CamLive+ | 80 |
| EVGA XR1 Lite | 78 |
| AGPTek VG0061 EZCap U3 | 77 |
| Black USB 3 4K HDMI Capture LT | 76 |
| ClonerAlliance Flint 4KP Plus | 75 |
| Silver "USB 3.0 HD Capture" w/ Power LT | 75 |
| Magewell USB Capture HDMI 4K Plus | 73 |
| ClonerAlliance Flint 4KP | 71 |
| Elgato 4K60 Pro | 71 |
| Riiai YK752 | 69 |
| EVGA XR1 | 68 |
| Razer Ripsaw HD | 67 |
| Razer Ripsaw | 65 |
| Mokose U70S | 64 |
| ASUS TUF CU4K30 | 64 |
| AVerMedia Live Gamer Extreme 2 (GC551) | 63 |
| Elgato Cam Link 4K | 63 |
| AVerMedia ExtremeCap UVC | 61 |
| Magewell XI100DUSB-HDMI | 61 |
| Elgato HD60 S+ | 61 |
| Bird Dog Studio NDI | 60 |
| Elgato 4K60 Pro MkII | 58 |
| BlackMagic Decklink Mini Recorder 4k | 57 |
| Elgato HD60 S | 57 |
| AVerMedia Live Gamer Ultra (GC553) | 55 |
| Elgato HD60 Pro | 51 |
| Elgato Cam Link (Gen 1) | 51 |
| EZCap GameLite RAW (ezcap321) | 50 |
| Digitnow U601 | 50 |
| Pengo 4K HDMI Grabber | 49 |
| Magewell 4K Pro Capture HDMI Plus LT | 48 |
| BlueAVS/GOODAN/Generic HDMI to USB 2.0 | 48 |
| AVerMedia Live Gamer Duo (1) | 43 |
| AVerMedia Live Gamer Duo (2) | 42 |
| AVerMedia Live Streamer CAP 4K | 40 |
| AVerMedia Live Gamer 4k (GC573) | 36 |
This chart displays the measured input latency from photon firing to the image being rendered and displayed fullscreen in a preview of OBS Studio. The lower the latency, the better, and the faster it is to sync to your audio, easier to play from the preview, etc. This is one of the slower response capture cards you can currently buy, period. This means you will have incredibly high input latency when trying to play your game, plus whatever added latency your monitor might add (which is often a lot).
High latency makes it very difficult to successfully play timing-sensitive games such as first-person shooters or fighting games, and may even cause motion sickness while doing so. I was completely unable to play FPS titles in either OBS Studio or the "Genki Arcade" app that they include – which they claim is 50ms faster than OBS Studio, but was not faster in my testing. I could play less-sensitive games to a degree, but it was not a fun experience.
This compounds with the fact that like so many capture cards that this is just a clone of, the capture card cannot stream 1080p at 60FPS. It's limited to 30FPS at 1080p or 60FPS at 720p. So if you try to play at a decent resolution (both look quite poor due to the MJPEG encoding on the device) you're stuck with half the framerate, too!
Specs-wise, the capture card supports 4K 60hz inputs from PC and game consoles (tested with Xbox Series X and Playstation 5), as well as 1080p, and captures in 1080p30 or 720p60.
I was surprised to discover I could actually push 1440p120 to it for some reason with display cloning in Windows, so while it looks sub-par, you could at least use it for PC streaming, too!
Despite the USB Type-C connector, this device only uses USB 2.0. This is both confirmed in USBTreeView as well as by the fact that it's limited to only using MJPEG encoding – not YUY2 or even NV12, which require USB 3.0 or higher speeds.
Genki developed the "Genki Arcade" app to use with this device. They claim it's 50ms faster than OBS Studio, but that was not the case for me.
The app runs on Mac OS (M1 and Intel), Windows, and even as a Chrome webapp, but cannot take screenshots or record with the Windows native app for some reason. It can record in the other two, but it repackages the video feed as AVC in a MP4 container on Mac and H264 in a .WEBM container in Chrome. This is a silly choice as the MJPEG feed can be natively saved to a file without additional encoding eating up CPU resources or extra quality degradation. Plus a .WEBM container isn't usable in most video editors.
(Here's a full playlist of additional sample captures.)
Conclusion
At best, you can get this exact same capture card for a fraction of the cost, as linked above. At worst, it's completely useless for the task they built it for and there's no end of better options out there. Check out my capture card reviews playlist to discover more.
What really astounds me here, is this is what Genki has done with $4,300,000 USD raised in funds via Kickstarter and IndieGogo. Four. Point. Three. MILLION. Dollars. To clone and re-house a capture card that you can buy for $6 on Amazon, eBay, and AliExpress. How can you take in that much money and deliver something so predictably useless? No wonder no one trusts Kickstarter anymore.
PRODUCT LINKS: