This is the Elgato Stream Deck. The new one. The Stream Deck mk. 2. This is a slot-in replacement for the original Stream Deck – a refresh that breathes a little quality of life into the product without changing it too much or increasing its price. Elgato did the same thing with the Cam Link 4K as a slot-in upgrade to the original Cam Link listing.
If you aren't familiar with the Stream Deck, it's a powerful tool for streamers and content creators, or anyone who wants more automation or control over your system. On the surface, it's a macro keypad – which you can make with any keyboard if you like – but it has a ton of direct integrations with specific programs and services, plugins that expand that wildly, and cool widgets for displaying system stats and other things.
Check out this playlist of all of my Elgato Stream Deck content to learn more about the Stream Deck & its applications.
The physical thing that stands the Stream Deck out from general macro keypad options is the LCD screen behind the keys. Having built my own macro keyboards for a few years prior to the Stream Deck, having instant icon changes – without printing them out and taping over the keys – as well as different visual states to indicate when a toggle is on or off, PLUS having infinite layers through pages and folder nesting is just… so much better to use.
The Stream Deck Mk.2 now has a detachable USB C cable with a right-angle cable included in the box. This is a huge improvement as the original model had a hilariously short cable that was constantly a problem to route properly – and something that was addressed with a longer cable on the Stream Deck Mini and with a detachable USB C cable on the XL. You get a longer cable in the box and the option to bring your own.
The original, floppy stand has been replaced with a fixed-angle stand like the other two Stream Deck models. This is a better stand overall but will be a disappointment for those who actually preferred the adjustable angles. I honestly had no major gripes with the original stand and have my other Stream Decks mounted with these cool custom clamps anyway. Link below – though these aren't revised for the Mk.2 yet.
The new Stream Deck also has a detachable faceplate. You can order from a set of pre-made (and an ideally continuously growing collection) set of designs from Elgato's website, or just pull yours off and paint or decal it up to make it yours. I'm all about customization so I absolutely love this decision. I haven't figured out exactly how I want mine to look yet, but I'm very excited to get one made.
A side effect of having the removable faceplate is that you can actually strip the Stream Deck Mk.2 down to just its brain: the buttons and the mainboard for them. This produces a MUCH smaller Stream Deck, which could then be embedded in custom projects a lot easier – pretty neat.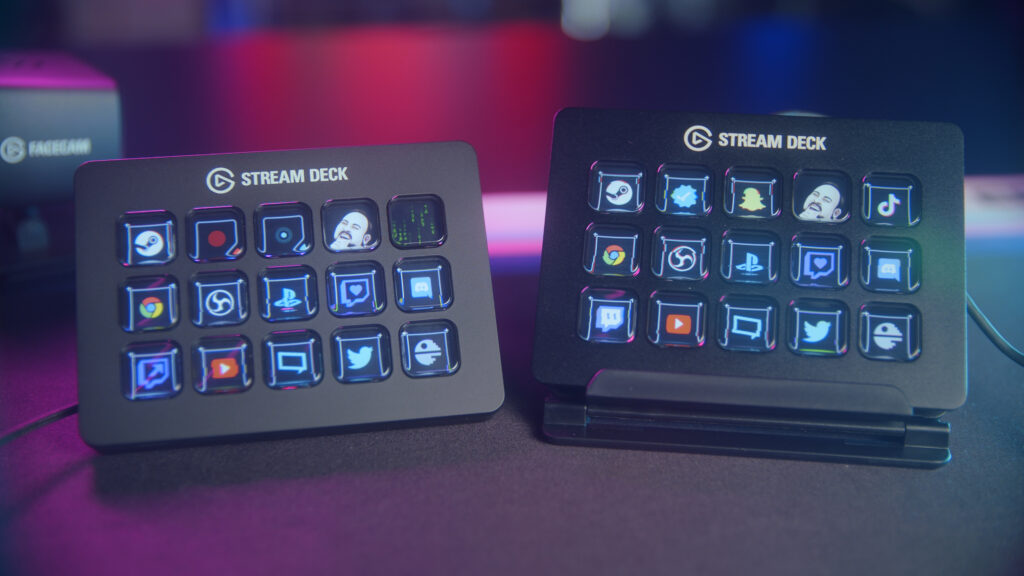 But otherwise, this is the same as the original Stream Deck. I really respect the decision to do it this way: It's an upgrade over the previous product in terms of workflow for those who are buying it new, but they aren't really trying to upsell anyone who already owns a Stream Deck and convince them they have to buy this new one.
This also makes it clear just how solid of a product the original Stream Deck was. I was SO hyped when it was first released due to the potential I saw in it, and they have completely revamped the software, injected it with a ton of functionality and customization, and so many streamers and other content creators – even on the bigger broadcast and production level – have come to rely on it for their workflow.